Welcome to the new Sapphire Dragon Orchids and Orchid Vault site.  We are still hammering out some issues, please review our known issues list before reporting any issues/bugs.
Sapphire Dragon Orchids is a boutique orchid vendor specializing in coerulea Phalaenopsis species and hybrids. Our focus is on combining traditional techniques with a fresh approach to bring you new and exciting advancements in coerulea hybridizing.
Our efforts are driven with the goal of creating a strong foundation of high quality coerulea Phalaenopsis for the future. Our targeted breeding program allows us to stay highly focused on the ongoing development of this unique color form.   

We have an ongoing research program designed to work through the inheritance of the coerulea color form and to better understand how to create more consistent results from coerulea hybrids. 
Join our online community to discuss orchid hybridizing and other topics.  
Recent Store Additions
Our Orchid Hybrid List
I am extremely excited to be able have our Phalaenopsis Hybrids List on the site in a database organized by year.  You can explore years of hybrid records, the parents used and the thought process behind our hybrids.  These records are linked to the ploidy data and our online store.
I really hope you enjoy and find all this reference information useful.  It represents years of work.
SDO Orchid Hybrid Database Page
P. Sapphire's Angel
(P. aphrodite X P. Yungho Gelb Canary)  I made this cross over 10 years ago to use a foundation cross for coerulea breeding.   It produced extremely vigorous growers that produce an amazing show each year.  It has turned out to be amazing cross in it's own right with full cream and yellow flowers that have a glistening texture. 
We have some kieki's available now from select plants from this cross:
Orchid Ploidy List
We maintain a database of ploidy information for important Phalaenopsis used in hybridizing.  Anytime chromosome counts are done on important cultivars the information is added here for everyone's reference. 
Visit the Known Ploidy Database for more information.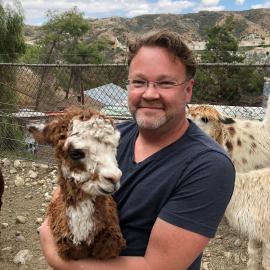 Rob Shepherd
Owner / Hybridizer
Rob Shepherd
Owner / Hybridizer

Rob is the owner, grower, and hybridizer at Sapphire Dragon Orchids. Rob has been growing orchids since 1984 and has focused on hybridizing coerulea Phalaenopsis since 2000 when he first started building a collection of coerulea Phal stud plants.
Email: rob@sapphiredragonorchids.com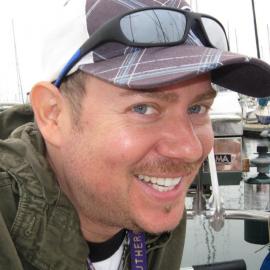 Michael James
Co-Owner

Michael runs the ranch in addition to his day job. He likes the orchids, but his real love is hanging out with the alpacas.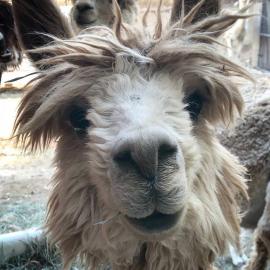 Princess Pumpkin
Ranch Princess
Princess Pumpkin
Ranch Princess

Princes Pumpkin the Pocket Alpaca IS the ranch Princess. Pumpkin is the first to visit ranch visitors and she especially loves children. She also have her own children's book.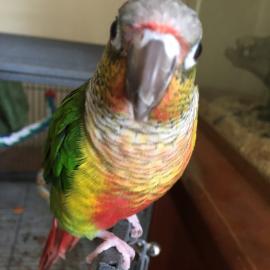 Merlin
Ranch Adviser

Merlin, the Pineapple Green-Cheek Conure runs the house and the office. He also thinks he is guard bird and likes to alert us if anyone get's too close to the orchid greenhouse.